Empty your head… →
On my last day of travels, I wound up sitting alone at breakfast, no longer needing to meet and talk over the day's activities, what we were going to shoot and not. The pressure was off, we were finally going home. It was bliss.
4 tags
5 tags
My Aunt, a real native New Yorker...
I pride myself on being a native New Yorker, born and raised. I've never lived anywhere else and, what's more, I don't even have an accent. Ask anyone ;) But my Aunt Betty, now she outdoes me as a real native New Yorker by a mile. I was reminded of that after talking to her the other day. She's 90 years old and lives on the top floor of a three-story walk-up in...
5 tags
The crazy season.....
With Thanksgiving behind us, we've officially began "the crazy season," the time of year when religious holidays usher in a month-long celebration of crass commercialism. Hardly a new or insightful thought but there it is. We recognize this season for what it is, moan about it and yet, take part in it each and every year. As my children have grown, it's gotten a bit...
Anonymous asked: I grew up in Monroe Projests . What building did you live in? Do you remember the rooms on the first floor where residents shared that stored baby carriages and bicycles?A peddler went from door to door selling dry goods named Mr Silverman?
7 tags
Meeting the best people in the world...
For my job as a producer for the CBS News magazine "48 Hours," I meet a lot people in the middle of unspeakable tragedies, families whose loved ones have been murdered. Working on a story about Canada's "Highway of Tears" — where dozens of women have gone missing or have been murdered over the past 40 years — I met many such families. But here's the...
11 tags
I'm reading in NYC next Wednesday 11/14...
Hi everyone, I haven't read my memoir in awhile in public (of course I read it every night in private in front of a mirror….not really) but next Wednesday, November 14th, I'll be reading at the John D. Calandra Italian American Institute and it's totally free. Here are the details: The Institute is in midtown at 25 W. 43rd St., 17th floor 212-642-2094. They'd...
12 tags
My memoir free today (11/6/12)....
As a small token for my fellow New Yorkers — affected by Hurricane Sandy or not — I'm making my the e-book version of my memoir "Leaving Story Avenue" available for free on Amazon today! It's about New York in the '60s and '70s and might take your mind off our current troubles for awhile…also good diversion from this week's impending...
9 tags
7 tags
Review from another memoir author....
One of the nice things about being an author is meeting other authors and trading books. I literally stumbled across the memoir "Last of the Live Nude Girls" by Sheila McClear about the years she spent dancing nude in a peep show behind the glass in Times Square. It's a fascinating journey into a world not many of us will ever experience and I for one am grateful to Sheila for...
5 tags
The 5-star reviews keep pouring in....
I just received two amazing reviews today on Amazon about my memoir. One from someone I know and one from a stranger. Both are so flattering, it's hard to wrap my brain around but they do make one feel great. Here they are: From Terrie: Disclaimer: I am not a kid from the Bronx. I did not grow up with, nor have I ever met, nor have I any affiliation with the author of this book....
16 tags
The story after Story Avenue...
Anyone who has read my new memoir knows that it ends in the year 1983. There may be a sequel one of these days but, for now, here's a taste of what happened courtesy of Bill Lucey who has started a blog that highlights the careers of newspaper men and women AFTER they leave the holy fold. Today Bill was nice enough to feature me. Soon after New York Daily News reporter Paul LaRosa took a...
6 tags
14 tags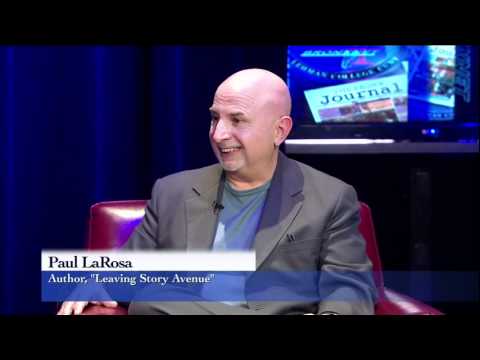 24 tags
10 tags
"Latest Review of my memoir Reviewed by Vince Cosgrove Paul LaRosa has written..."
– The Newark Star-Ledger
9 tags
15 tags
Two upcoming readings...
If you were unable to be part of the overflow crowd that came to my reading and book discussion at the Lower East Side Tenement Museum last week, no worries — two more area book readings are scheduled and coming your way. Here are the details: FRIDAY MAY 4TH — I'll be reading and signing copies of my memoir at the Clinton Book Shop in Clinton, New Jersey, 12 E. Main...
14 tags
8 tags
Q & A with author Paul LaRosa....
by Lynnette Labelle I'd like to welcome true crime and now memoir writer Paul LaRosa, author of Leaving Story Avenue. Before we learn about Leaving Story Avenue, let's see what Paul has to say… When did you start writing? As a young teen; I tried to write my own James Bond book after reading the stories by Ian Flemming. If you write in other genres, what are they?  What has your experience...
19 tags
On Publication Day, the story of why I chose an...
Preface by Joel Friedlander, aka The Book Designer I met Paul La Rosa when he was referred to me by friend and fellow blogger Betty Ming Liu. Paul's story of growing up in the projects of New York City and climbing up the ranks starting as a copy boy at the New York Daily News really struck a chord with me. I was a year or two older than Paul, and grew up a few miles away. His book is coming out...
17 tags
"LaRosa is a magnificent storyteller...."
Book review: Leaving Story Avenue by Paul LaRosa Reviewed by Mandy Hevener I spent a good part of my childhood wanting to be a journalist – until I went to college and realized that reporting just isn't for me. Like Paul LaRosa, in his memoir, Leaving Story Avenue, I was better at writing features. My interest in journalism made this book all the more appealing, since LaRosa spent years...
12 tags
19 tags
"A marvelous tale of a fast-disappearing part of...
That's part of what investigative journalist Tom Robbins has to say about "Leaving Story Avenue; My journey from the projects to the front page," the new memoir by  Paul LaRosa. Tom currently is investigative journalist in residence at the CUNY Graduate School of Journalism, and formerly was a columnist for the Village Voice, NY Daily News and The New York Observer. ...
12 tags
"Thanks to my high school alma mater for this nice writeup…. CARDINAL..."
– http://www.cardinalhayes.org/apps/news/show_news.jsp?REC_ID=238336&id=0
11 tags
7 tags
18 tags
Stellar review of my memoir from the NY Press...
Reviewed by Beatrice Williams-Rude, The Constant Columnist CBS News producer and New York Press Club member Paul LaRosa has written a riveting remembrance - "Leaving Story Avenue: My journey from the projects to the front page" - that's outstanding for numerous reasons: The writing, the subject matter, the manner of presentation - without an ounce of ego or an iota of self pity - and the good...
9 tags
"CBS News Producer and Former Daily News Reporter Recounts Life in Memoir By..."
– http://www.mediabistro.com/fishbowlny/cbs-news-producer-and-former-daily-news-reporter-recounts-life-in-memoir_b56647
12 tags
"A review of my memoir by one who was there…. "Leaving Story..."
– http://www.mediapost.com/publications/article/170584/book-sparks-trip-down-memory-lane.html?edition&fb_source=message
8 tags
9 tags
10 tags
8 tags
Another great review for my memoir...
Paul LaRosa['s]…breezy memoir of the 1970s New York City newspaper culture, "Leaving Story Avenue," captures the sense of adventure behind kitschy tabloid headlines and clichéd phrases such as "Get Me Re-Write!" Reviewed by James Broderick, associate professor of English and journalism at New Jersey City University. A former newspaper reporter and editor for...
4 tags
Rave for my upcoming memoir....
Leaving Story Avenue My journey from the projects to the front page Paul LaRosa Park Slope Publishing 2012 /ISBN: 9780983796305 Memoir Amazon Reviewed by Carolyn Howard-Johnson The Smell of New York, the Smell of Printers Ink Emmy Award-Winning Producer Talks Journalism and New York True to journalistic ethics, here, a disclaimer. I started out ...
18 tags
13 tags
30 tags